Sirio Panel: the panel that will amaze your photos
Sirio Panel is designed for all photographers who deal with landscape photography and astrophotography.
All the tools you've always wanted now in a single tool with amazing potential.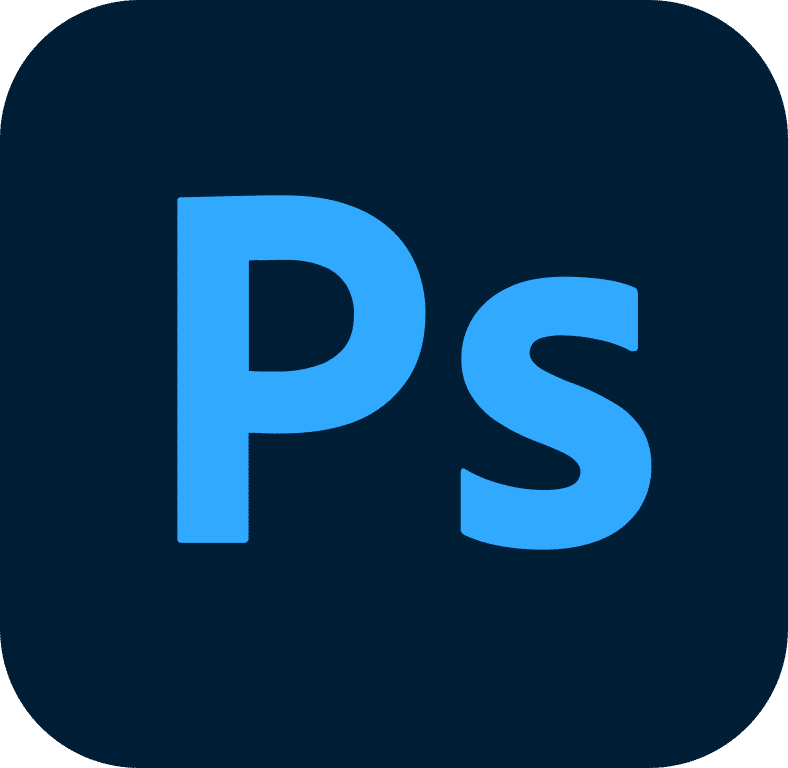 100% designed for
Adobe Photoshop
FOCUS ON YOUR PHOTOGRAPHY
Created by landscape photographers and astrophotographers, Sirio Panel has many features that will save you up to 90% of the time you usually spend in editing by improving the results.

In addition, our programmers have spent a lot of time on the user interface and functions, making Sirio a panel suitable for both beginners and professionals
Before
After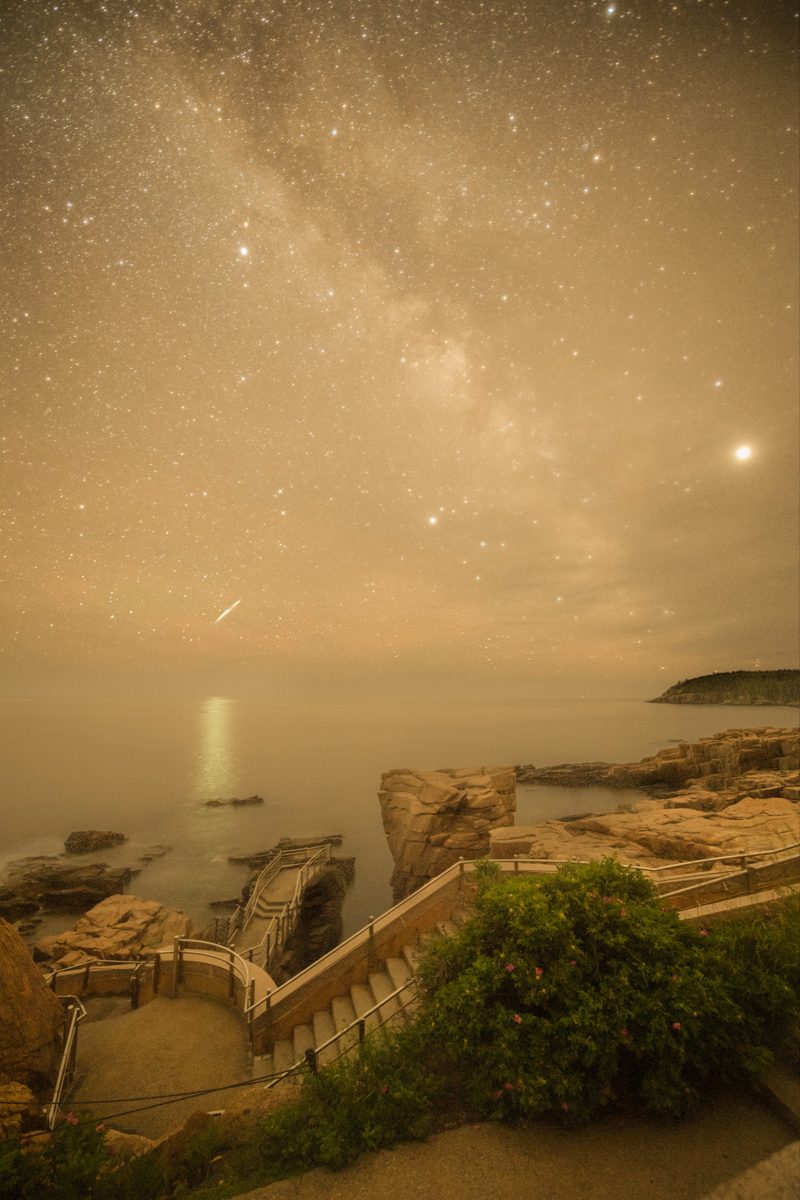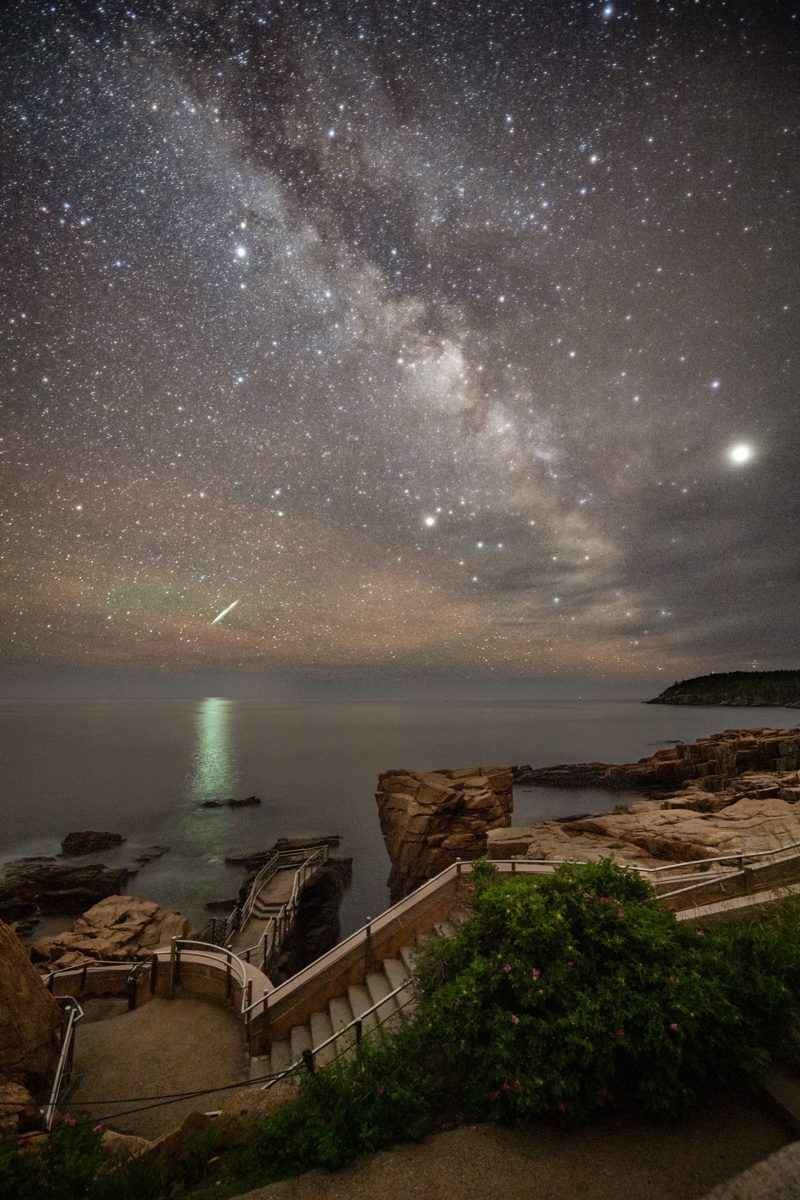 Before
After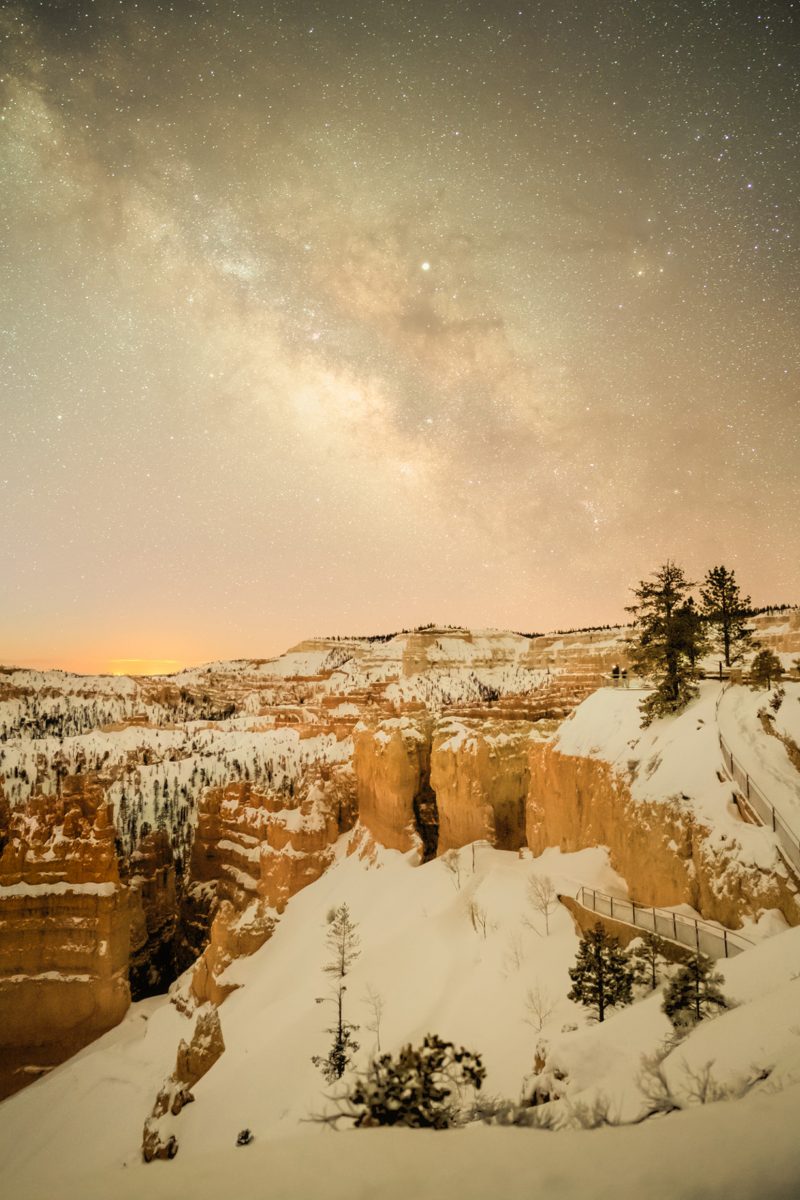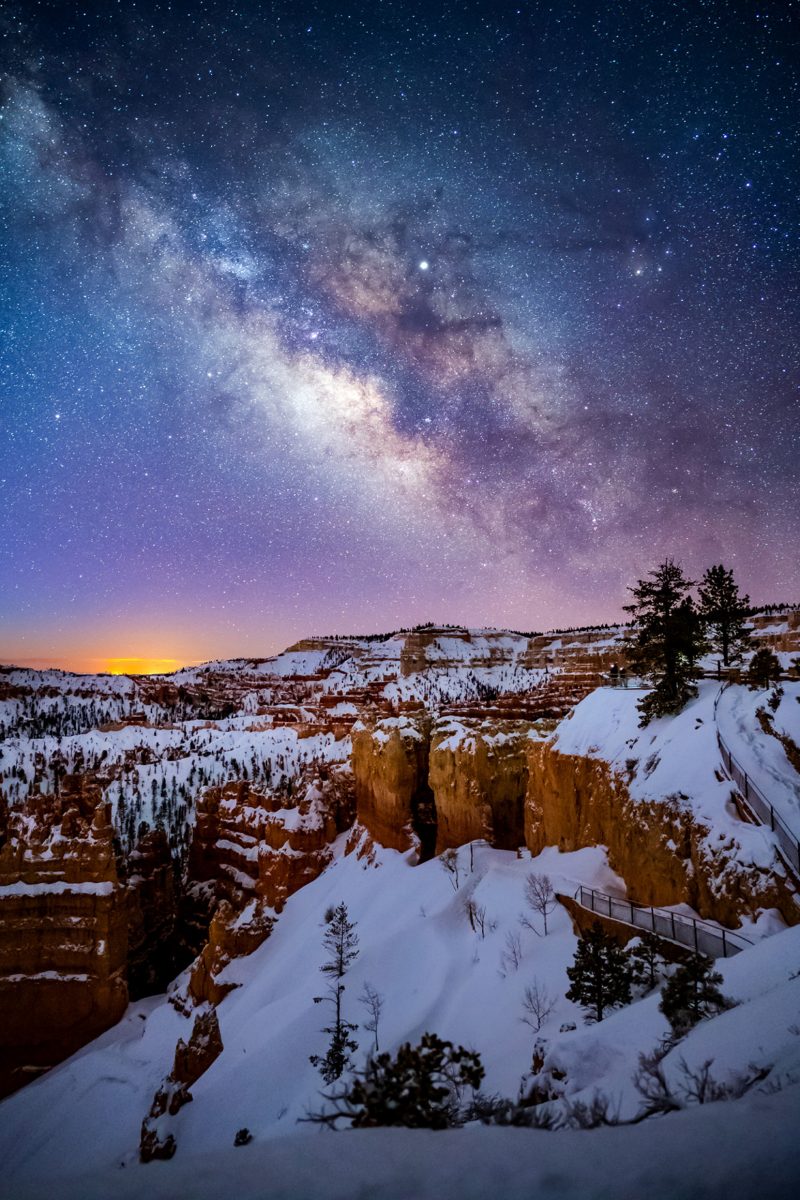 Before
After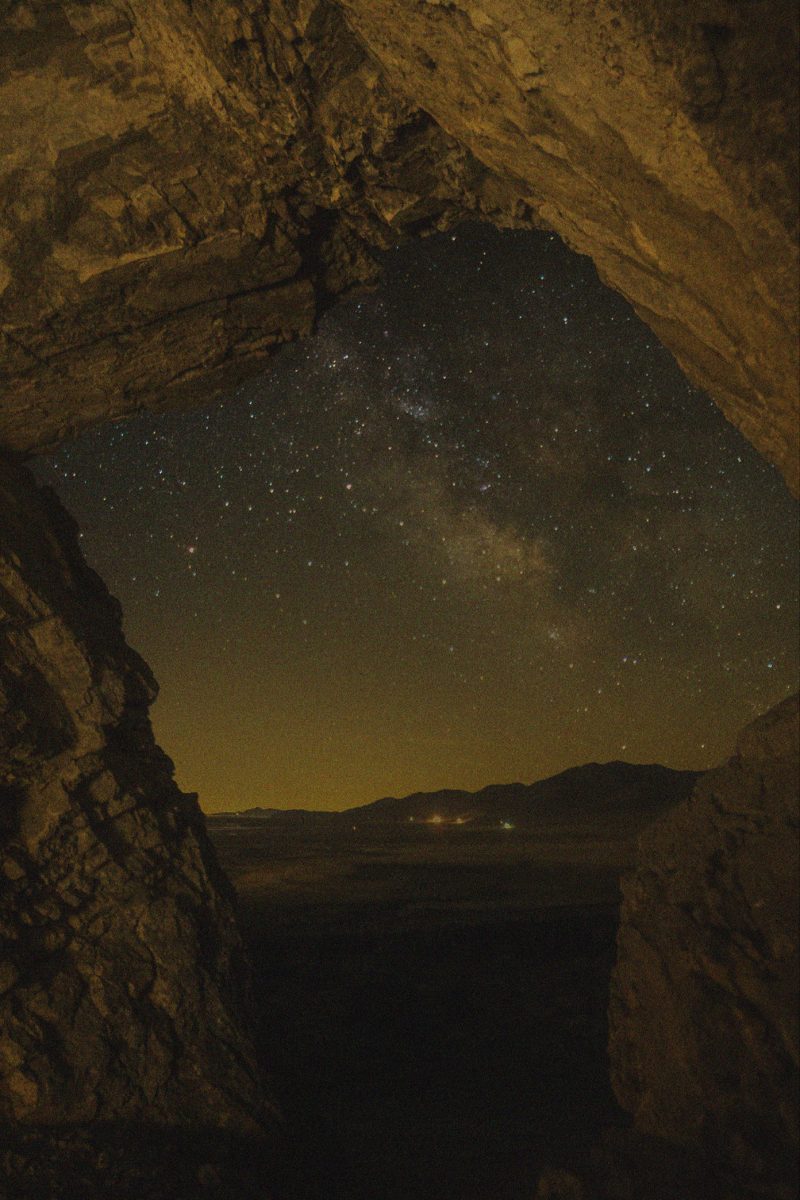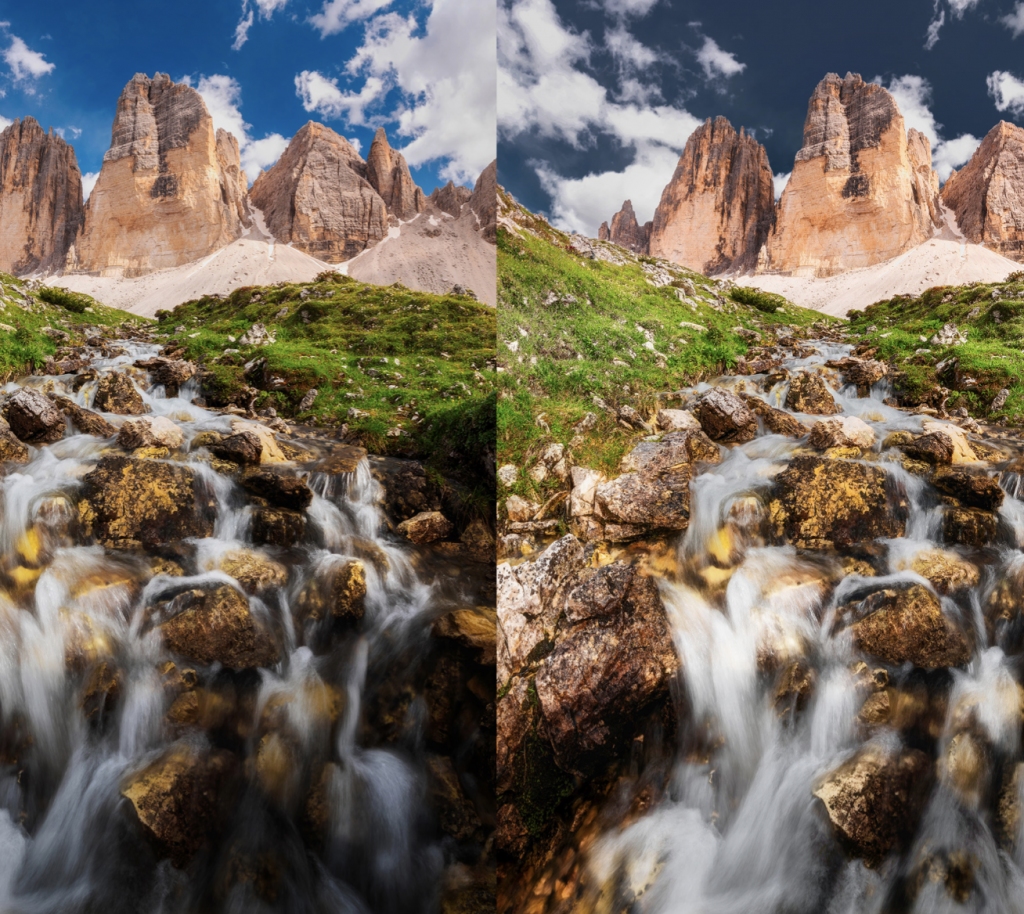 The innovative function that will drastically improve the blue of your photos.
Through advanced luminance processes, the Sky Collapse feature makes the blue of your photos soft, pleasant and deep.
In fact, thanks to the great work of our professional photographers we were able to obtain a perfect process that will make the cold areas of your photo well defined by the warm and above all contrasted and fluid ones.
The Dodge tool and the Burn tool lighten or darken areas of the image. These tools are based on a traditional darkroom technique for regulating exposure on specific areas of a print. Photographers hold back light to lighten an area on the print (dodging) or increase the exposure to darken areas on a print (burning). The more you paint over an area with the Dodge or Burn tool, the lighter or darker it becomes.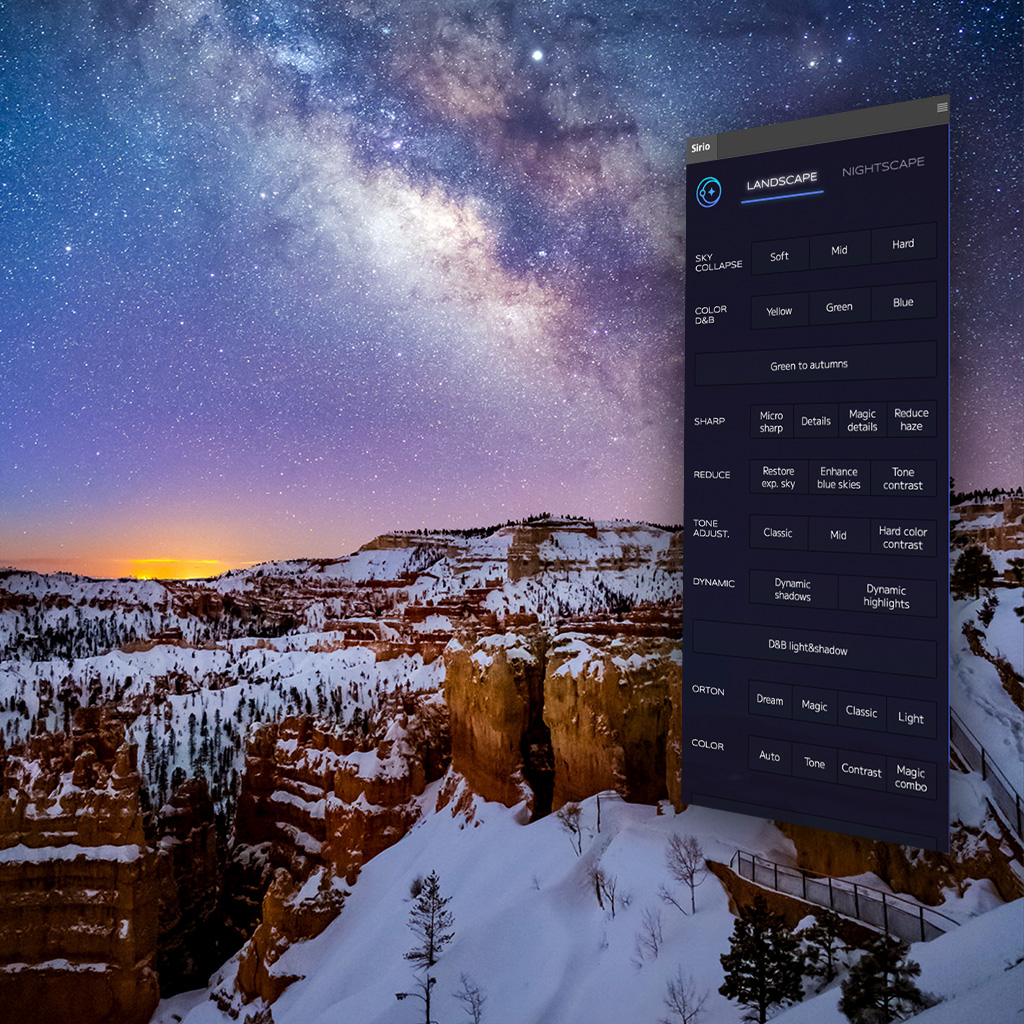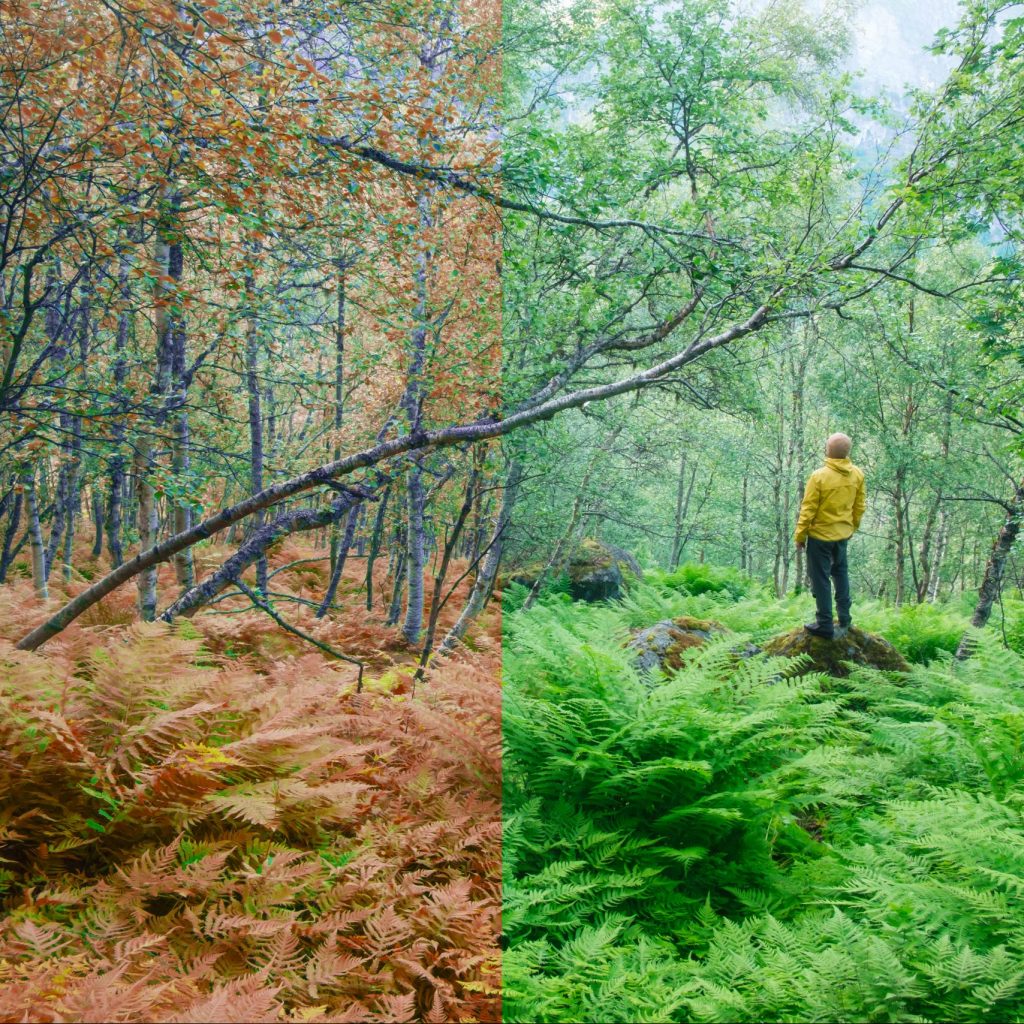 Makes the autumn landscape turning green to red /
brown. Make any foliage green even in the colder seasons. On the contrary, if you prefer, make the spring landscapes autumnal. Keep your shooting style and the colors you want all year round.
We are very proud of our "sharpness" functions, in fact, compared to other panels, Sirio is able to apply a micrometric sharpness, in so doing it is not afraid of noise, halos or Hot Pixels. Divided into 4 sections:
MicroSharp: enhances edge details on subjects and Background
Details: Enhance general detail across the entire photo, including fills
Magic details: it's a hybrid between details and microsharp to get the most out of your photo.
Reduce Haze: drastically improves the detail of all those photos that have a fog or haze situation.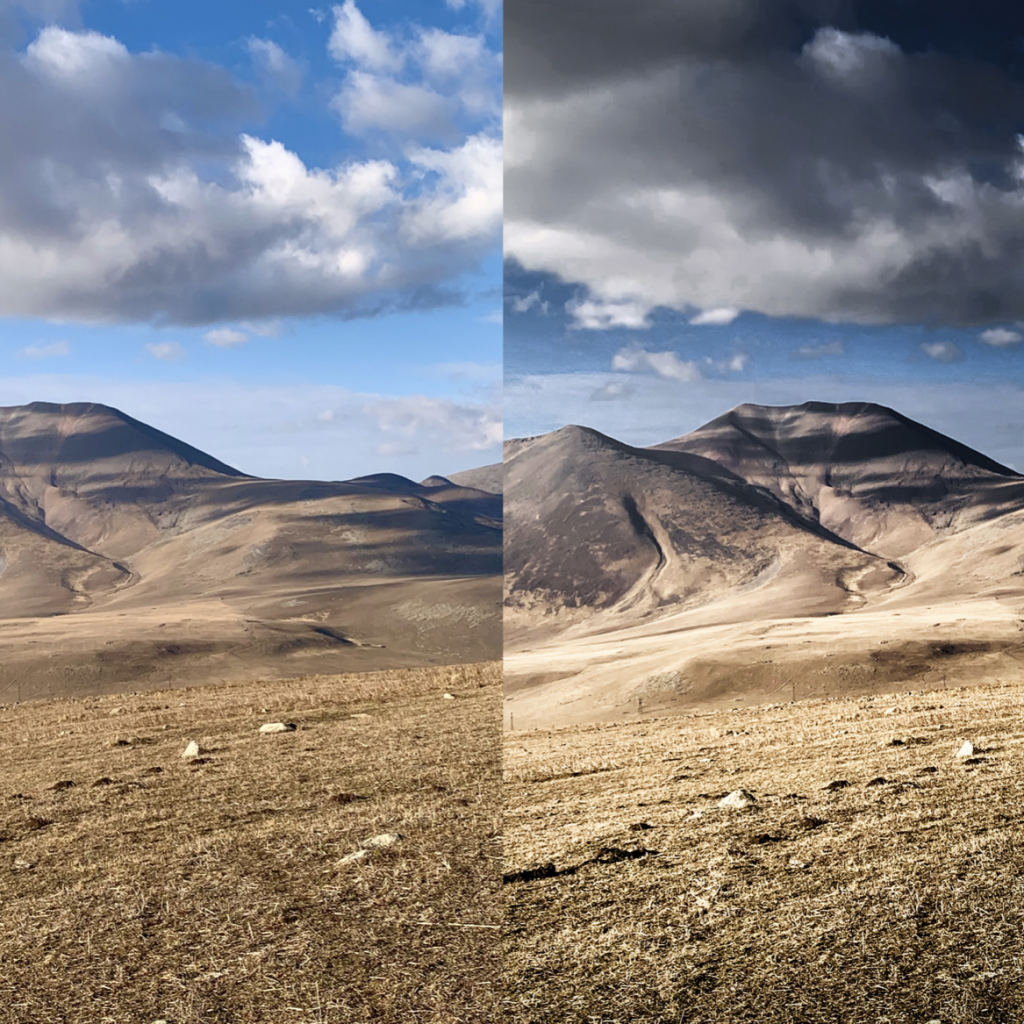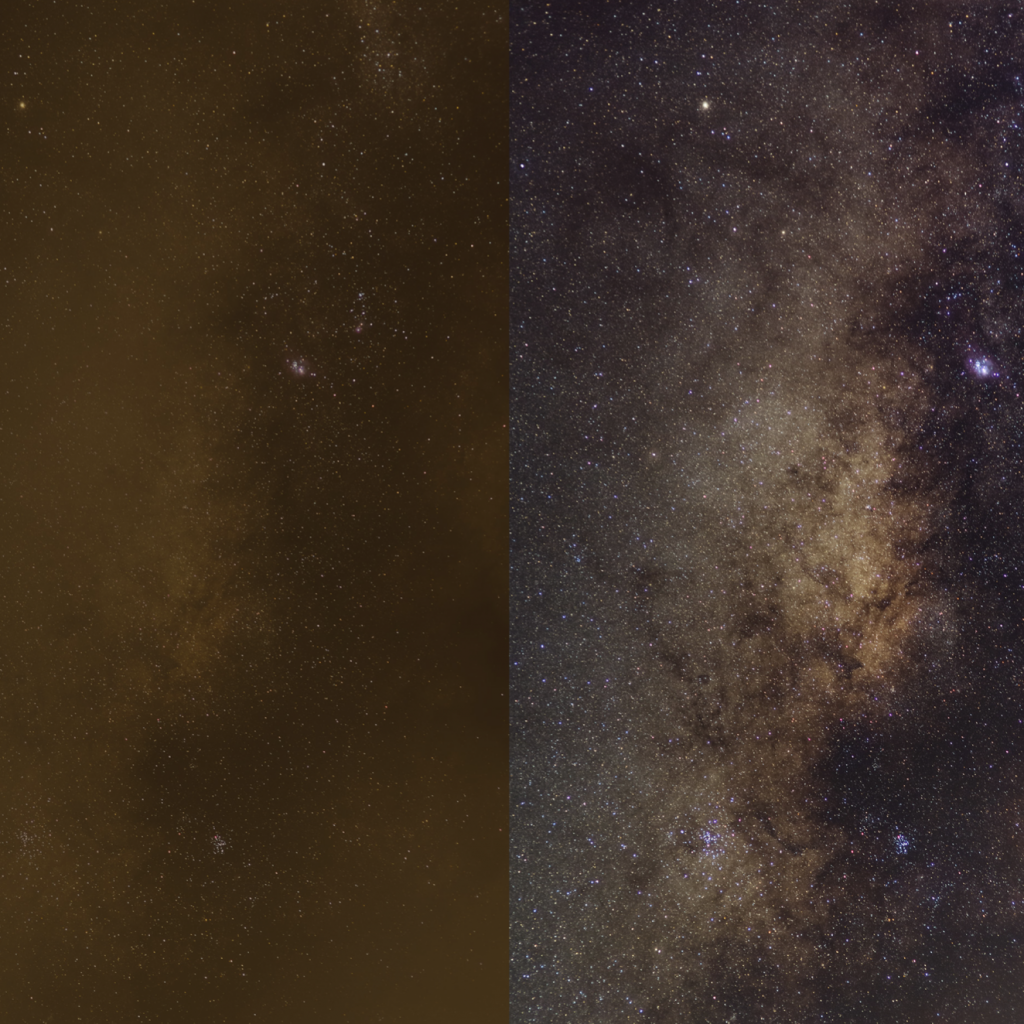 Enhance the depth, contrast and sharpness of the nebula in your photos, recommended for milky way, galaxies and nebulae.
This function includes a process of 132 different steps, was created by a professional astrophographer with 8 years of experience and the result will surprise you.
In fact, you just have to choose the intensity and with a single click Sirio will create a mask where you can, with a brush, pass the part of nebulosity and discover the magic.
The function is able to extract the haze even in photos where the haze is weak and barely visible.
For us this is a big step towards the evolution of astrophotography and post-production.
Category dedicated to sharpness such as the "MicroSharp" which improves the details of the edges, The "details" which improves the general detail, The "magic details" which is a hybrid between the details and the microsharp, and the "reduce haze" which drastically improves the detail of all those photos that have a foggy situation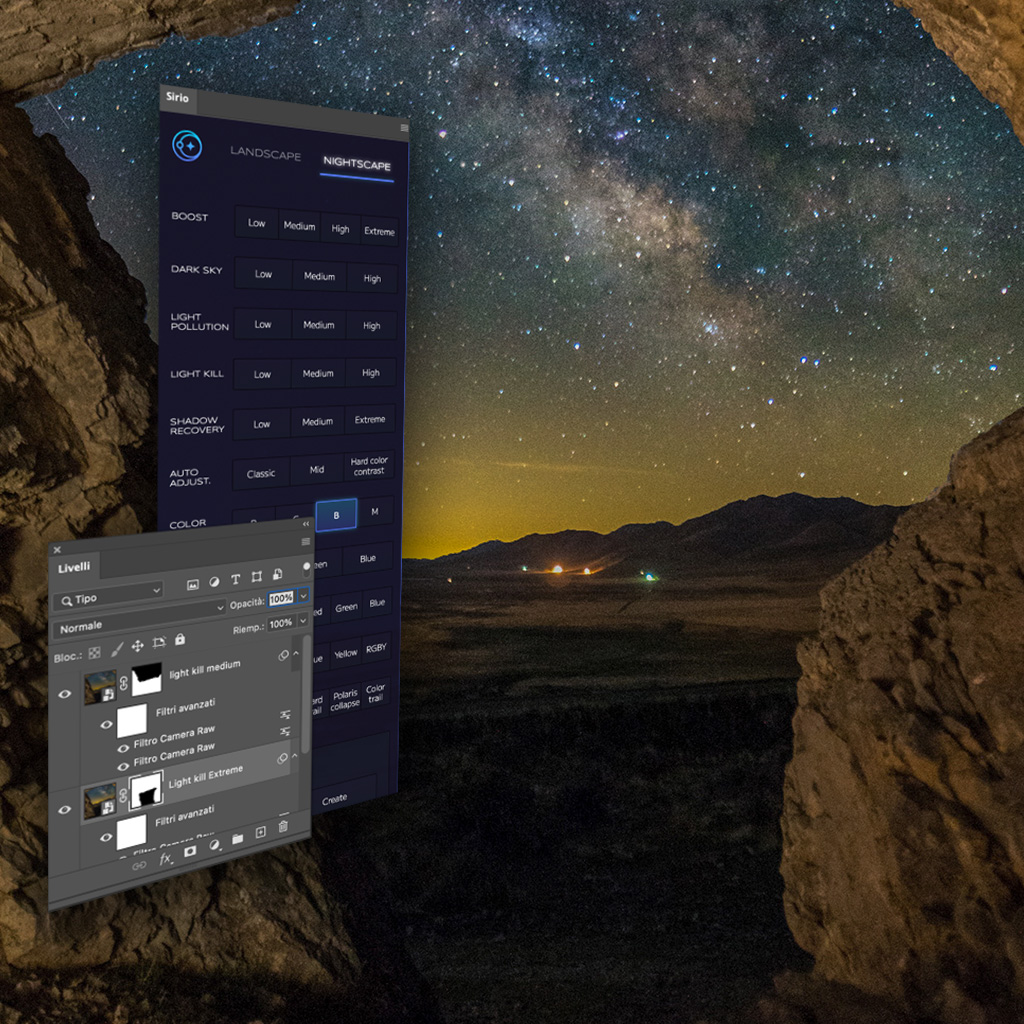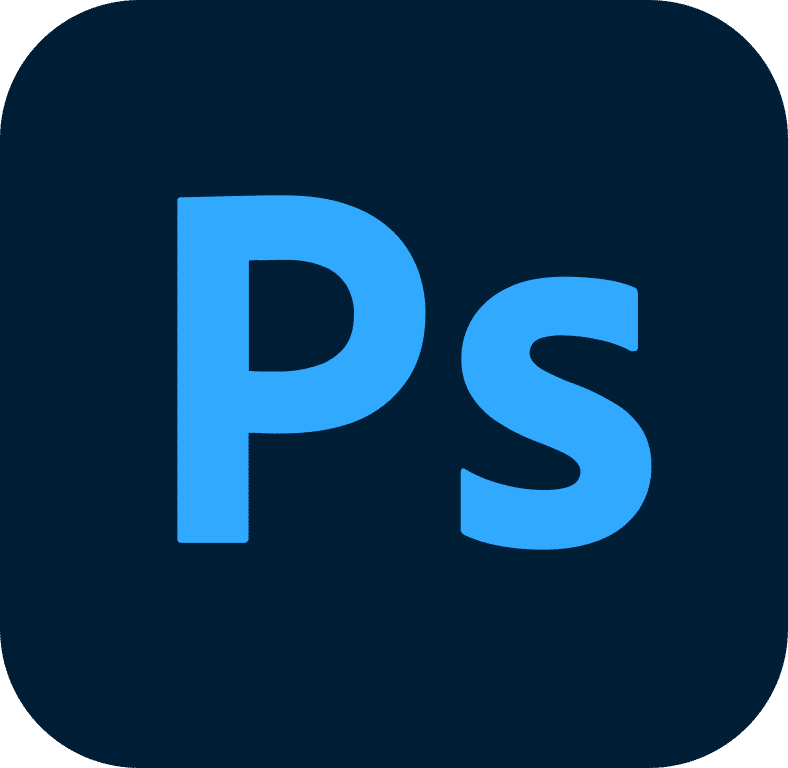 designed for
Adobe Photoshop
Sirio Panel has been tested on officially licensed versions of
Adobe Photoshop

from CC2014 (V15) to CC2022 on

Windows

and

Mac OSX

(based on both

Intel

or

Apple M1

processor).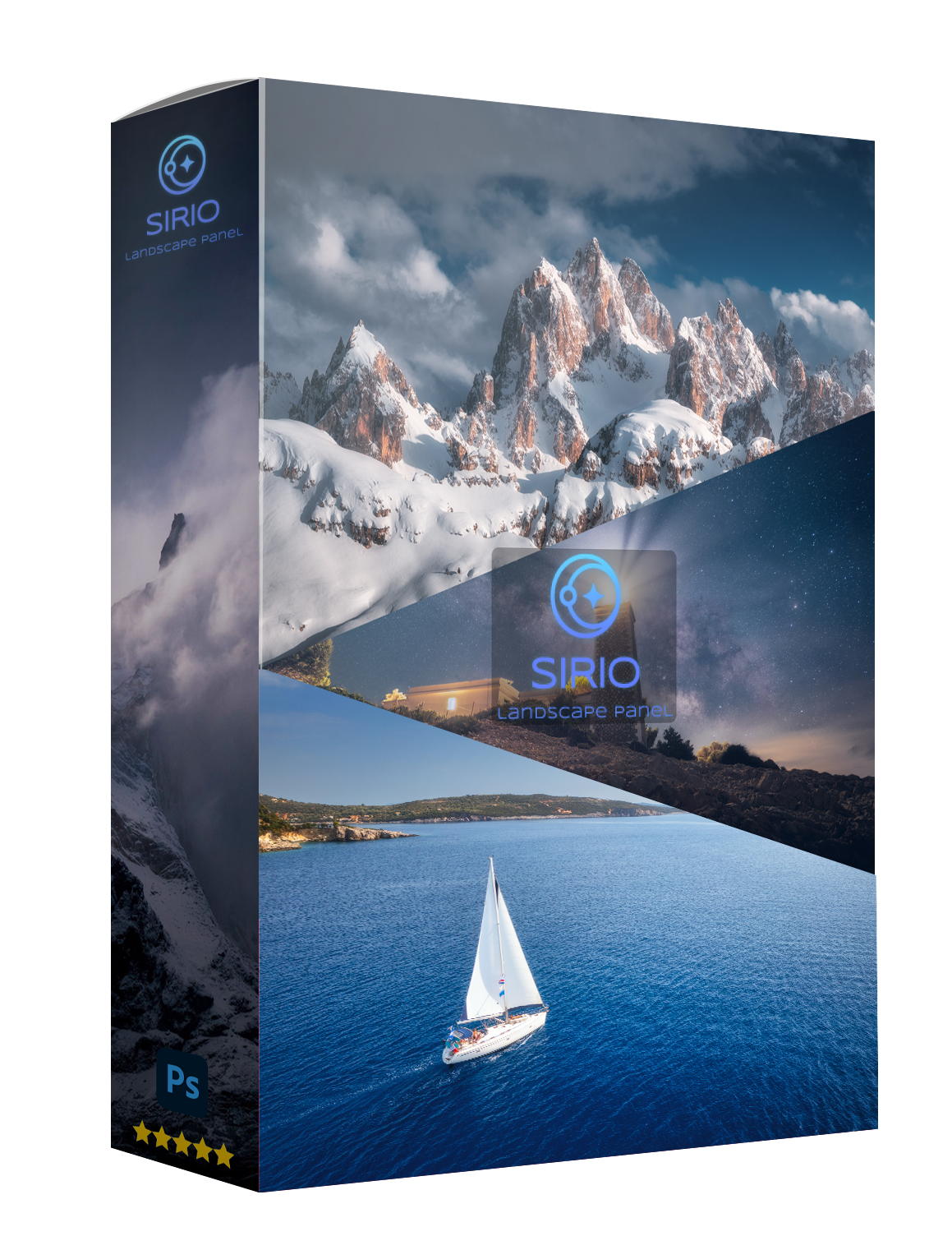 I have just became a better photographer thanks to this amazing product. I save tons of hours and money. I can focus now on what it's important: my skills as a photographer rather than a Photoshop Expert. Thank you so much!
Post production is now an integral part of photography and as such it is necessary to use powerful tools, in retouchpro panel I found a valid ally with an intuitive interface that has significantly speeded up my workflow and, given the learning curve and the price of really cheap purchase, essential for all those who make photography their profession.
The Retouch Pro Panel allows every photographer to focus on the pleasure of taking pictures, without the worry of having to learn how to use Photoshop. The Panel aims to make photo editing extremely intuitive and fluid. Without a doubt I recommend it to all those who want to start loving photography again and worry less about the technicalities of Photoshop!
Prodotto buono, velocizza il flusso di lavoro.
The work flow is much smoother and faster
OTTIMO
MOLTO MOLTO MOLTO BELLO. MI PIACE. BRAVI !!!
In short, if you are a beginner and want to improve your photos or you are a professional and want to save time, Sirio Panel is the solution for you.
CHOOSE THE PLAN THAT SUITS YOUR NEEDS
We decided to create Sirio Panel to respond to a very specific need: 99% of the panels for landscape and astrophotography are complex and have incomprehensible buttons, our challenge was precisely this: to create a very powerful product but at the same time intuitive and very easy to use, and we did it.
1 license Lifetime Sirio Panel
Change device when you want
+ All Future versions included
1 license Lifetime Sirio Panel
Change device when you want
+ All Future versions included